2003-2007 6.0 Super Duty
The 6.0 Super Duty was introduced in December 2002.
The chassis was the same well-proven platform introduced in late 1998 as the F series Super Duty.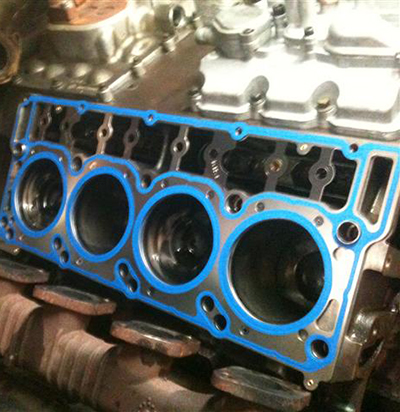 2005 6.0 Head Stud Upgrade in progress
2007 6.0 5th Wheel Hauler getting Head Studs, BP Coolers, a Banks CAC System and some Programming
2006 6.0 Studs, SCT W/Custom tunes, Banks, Garret, Driven Diesel regulated return, Bulletproof EGR delete. Yes It Runs Hard!
The 6.0 has had its fair share of issues. Most of the issues can be attributed to improper maintenance of cooling system, fuel system, and extended oil change intervals. Over the years there have been many improvements made in both mechanical components and the electronic control system. These changes have vastly improved the reliability of this platform and when combined with a few upgrades, make these trucks a great value which can last for many years.
We have discussed all of the issues in other related articles 6.0L Head Gasket Failure, and 6.0 Injector Failure, so we won't cover them here. The intent of this article is to show the value of these trucks when compared to a new and more initially expensive truck.
These trucks have gone up in value recently, so expect to pay more for a used Super Duty. The factors involved in the increase in value are due to a couple of factors. One is the high price of a new truck, the other is the availability of proven upgrades. I will also note that close to 50% of the head gasket jobs we have done in the last year were both recent purchases and had head studs installed. The reason for these repeated failures was either the use of an aftermarket head gasket, or failure to re-surface the cylinder heads, or a combination of both, just a gasket slap.
The best thing you can do if you find a truck is to have a pre-purchase inspection done on it. This should be done by a facility whose staff is familiar with all the issues. We don't often find many chassis related problems, most of the problems and certainly the most costly are related to the engine so this is where the main focus of the inspection should be.
We have a few tests we can run to check oil/coolant temp bias, EGR cooler and head gasket integrity, we also run an OASIS to see the trucks history while it was under warranty. We have many customers who have purchased these trucks and had us do upgrades and now have a truck they can rely on for many years to come.
It is hard to beat the value of the 6.0 Super Duty when combined with these upgrades, they have a more than capable towing capacity, can get decent fuel economy and have plenty of power to get the job done, and if you want to step the power up, that's fairly easy to do reliably.